Current Books
The Vickie series of books are available in Audio book format in English on itunes and audible.com by the narrator Brenna Hobbs. Currently the Vickie series books are being created in audiobook Spanish as well by the actress Leni Rico.
The books are currently available in ebook/print in the languages of Spanish and Portuguese. Currently being translated are Italian, Hindi, French and Japanese.
I am no longer with Tate Publishing but my books are available online. Correct ISBN numbers and newer versions of my books are listed under Mazzaroth. However Tate published versions may still be available as well until depleted.
Publisher and Author Address:
Mazzaroth/Mike Sims
PO Box 842290
Houston, TX 77284
All Books are available at Amazon, Barnes and Noble or anywhere online. Signed copies can be purchased from my personal webstore here as well as an ebook version you can purchase and will be emailed to you as a PDF file: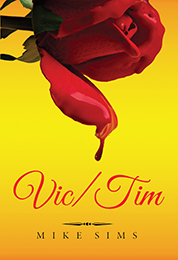 Vic/Tim
Each book in the series stands alone as Vic/Tim which is #4 in the series timeline, actually was the first book written. When it was written people asked how Vickie got her start so the series began. Vickie in this book is in the prime of her life and is assaulted by a man named Tim hence the title of the book; Vickie and Tim. Vickie decides to use her unusual and unique method of revenge on Tim. However things are not as simple as they seem and their lives become intertwined. Vic/Tim deals with many relevant social issues and mindsets. It is a dark comedy as all the books are in this series, however it sets the stage for the final book soon to be published.
Preview book here in PDF Format
Vic/Tim teaser/trailer #1:
Vic/Tim teaser/trailer #2:
Press Release:
Reviews:
"A bizarre, wild ride through the underbelly of some pretty twisted psyches. In the manner of filmmaker David Lynch, Vic/Tim exposes the baser instincts that lie beneath the seemingly placid lifestyles of the American middle class while, at the same time, it examines the capacity for forgiveness that is a central aspect of the human condition." - Rick Petry (Direct Response Copywriter and Creative Professional Writer) www.RickPetry.com
Published by: Mazzaroth
Vickie Series of books.
Thank you Nicole Andani for all your tireless help in making this book a reality.
Available online on Amazon, Barnes and Noble, and online bookstores everywhere.
---